Dursley Pedersen 1904
Restored by Tom Meudt.
Photo courtesy © Henry Meudt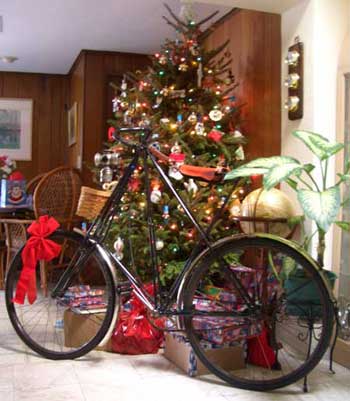 This would be a nice christmas gift, right? An original Dursley Pedersen bicycle.
A fairy-tale on how it came to happen for Henry Meudt in his own words.
A Rare Find
The story of my original 1904 Dursley Pedersen bicycle begins in the 1960's when I sang in a great church choir in Williston Park, N. Y. Our choirmaster, Tom Parker and his roommate Howard lived in Manhattan and loved antiques. Howard happened on this old bicycle in a shop in Manhattan and actually bought it to ride.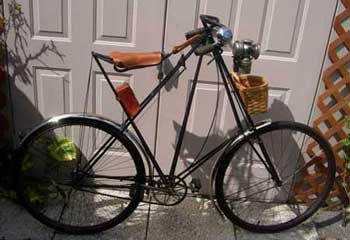 At some point, while Howard was riding the bike, the leather strap that held the suspended saddle (the reason for the frame design) broke. Sometime before a way was found to repair it, Howard suddenly had a heart attack and died. Shortly after, Tom Parker, knowing my interest in mechanical things, offered to sell me the broken bike for $100. I bought it and brought it home to my basement, much to the chagrin of my dear wife. I had no idea what it was but that Christmas, 1972, my cousin, called to tell me to buy the current issue of the Scientific American magazine, March 1973. Wow! Now at last I knew what it was, but so what.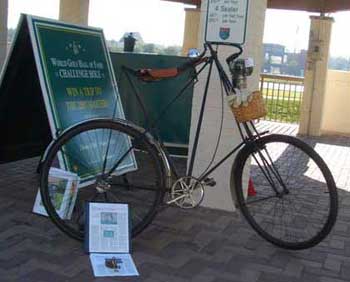 I was raising a family, had many challenges to deal with and the bike sat there, with two wood dowels inserted in the broken frame tubes to keep them in place.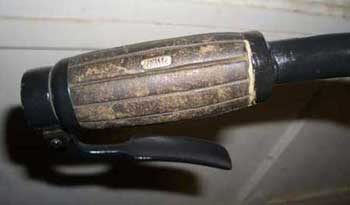 In 1979, my dear wife, Ginny, died at the age of 36 and with two children, life was too busy for any projects. In 1981 I had the opportunity to transfer to Boca Raton, FL and start a new life. The bike followed and languished in the garage, with little interest for 8 more years.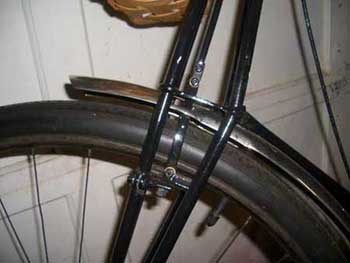 Then my son Tom, graduated Embry-Riddle as an aircraft mechanic and moved to Atlanta to work. His last act in packing for the move was to throw the bicycle in with his other belongings with the comment "You'll never get to this project". It then languished in his garage for another 14 years till one day I happened to do a computer search on Google for Dursley Pedersen. Oh my gosh! There was the most marvelous web site (www.dursley-pedersen.net (This site)). I was finally motivated.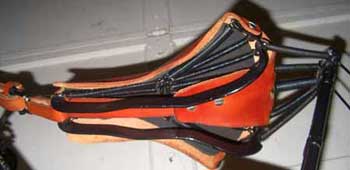 With this discovery, when my son Tom asked what I wanted for Christmas, I said how about restoring that old bike. Tom, now a machinist, has a real talent for mechanical restorations. Well last December (2005) he showed up with it expertly restored as my Christmas present.

I was ecstatic as I could see the quality work that he put into it, even to adding the calcium carbide headlamp. Actually, the bike was virtually complete with only the pedals not original and leather items needing replacement. During restoration, the serial number (#1821) was discovered identifying the year of manufacture as 1904. I now proudly enjoy riding this unique head turning machine. Here then is the story of the somewhat famous and unique Dursley Pedersen bicycle.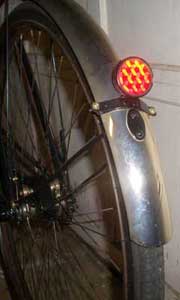 The 1904 offered Pedersen's patented design for a 3-speed hub gear, based on the countershaft principle. My 1904 bike just happens to have this hub and this winter I intend to carefully disassemble it and hopefully restore as now it remains in one gear. I refer to my bike as a "fugitive from a museum".
Henry Meudt may be reached here: meudt at gate.net