Mikael Pedersen invented quite a lot of different things.
I will not go into detail about his other inventions, but suffice it and say that many of his inventions have been lost. And this maybe why?
Mikael Pedersens fame actually came from the fact that he, along with others, invented the cream separator.
Cream Separator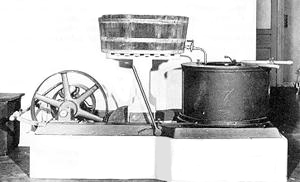 Photo: Roskilde Museum
This separator is a 'Maglekilde separator'.
The Cream separator is what brought Mikael Pedersen to England in the first place to work for R.A.Lister & Co. Ltd.
The Cream separator was improved several times. And was sold under the name "Alexandra Cream Separator".

Chainwheel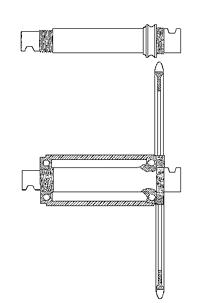 (G.R.O.)
Patent 27771 Nov. 25th 1897
Chainwheel and bottom bracket fixing.


Lightweight pedals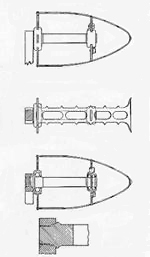 (G.R.O.)
Patent 27769, nov. 25 th 1897 — pedals.
Accepted 15th Oct.1898.
Important points were that:
The ball races were such that pressure on the balls was vertical and not diagonal as with conventional cones.
Threads of pedal axle were of "turret" type to give a firmer hold on the crank.
The material was aluminium.

David E. Evans "The Ingeniuos Mr. Pedersen"


Wheelcutter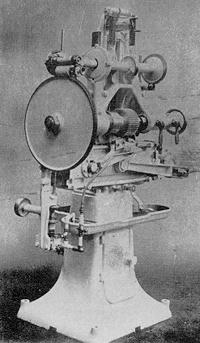 (Toke & Vagn Jensen)
One of Mikael Pedersen's developments 1908.


Motorcycle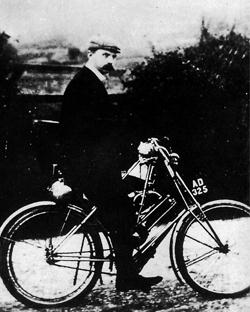 Anders Mellerup on a Pedersen
motor cycle, about 1903
(R.A. Lister & Co. Ltd collection)
Mikael Pedersen also invented a motor cycle.
He had the frame from the bike and in this he put a Single cylinder Joe Barter engine. Only a few machines were sold and Mikael Pedersen had to let the venture go.