English Patent Application Aug. 4, 1894
The application appears to be signed by Vagn Jensen, son of Mikael Pedersen. As far as I know he wasn't born at the time.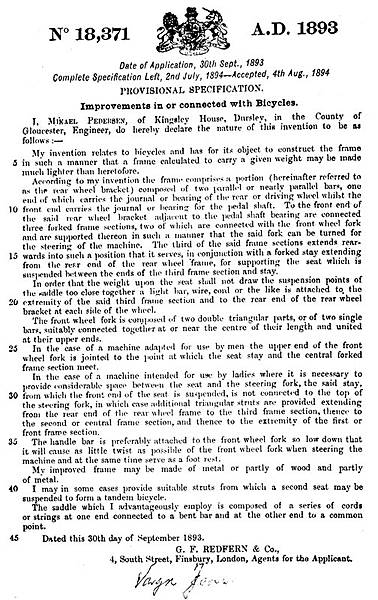 German Patent Application from Martz, 1894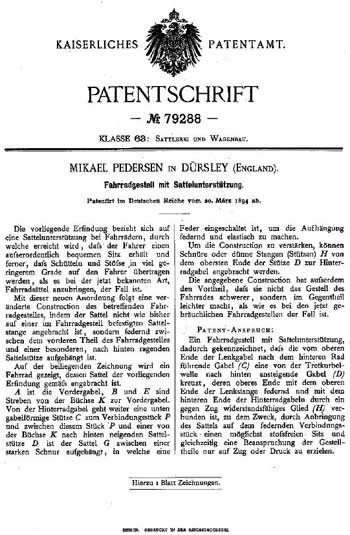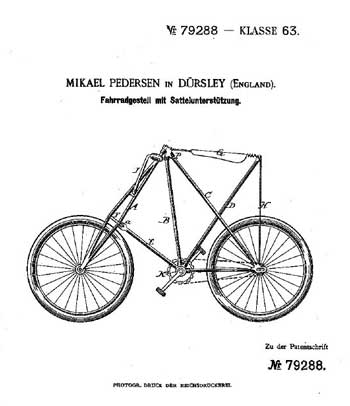 Enlarge the German Application (141 kb)
View a PDF file here:
http://www.dpma.de/galerie/rad2002/schriften/de0000079288a.pdf

Improvement 1896

No 16,899. - A.D 1896
---
Pedersen's Improvements or connected with bicycles.
---
(3) The top joints of the frame substantially as described & particularly shown in Drawings 3 & 4.
(4) The joint of the tubes at the rear and of the back wheel forks substantially as described and particularly shown in Drowning 5.
(5) The method of making the saddle with cross strings & loose longitudinal cords substantially as described
Dated this 29th day of july 1896
---
Redhill: Printed for Her Majesty's Stationary Office, by Malcomson & Co. Ltd - 1897.
AD 1896, July 30. No 16,899
PEDERSEN'S COMPLETE SPECIFICATION.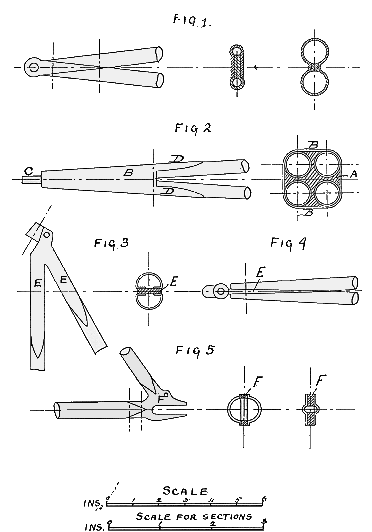 Danish Patent Application July 29, 1897
Granded January 10, 1899
The applicaton was for the seat only. Patent for the bicycle was denied because the construction was too complicated (??).