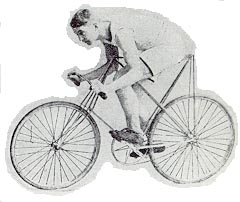 Harry "Goss" Green, Silverdale C.C. (Read on about Mr. Green)
A well known professionel rider at that time and holder of several records.
Event
Previous record
Beaten by Green
Record breaking in 1898
London to Brighton
and back
6 hrs 23 mins 11 secs.
15 mins 14 secs
Record breaking in 1900
London to Portsmouth
and back,
139 miles
8hrs.36mins.
unpaced
23 mins.
London to Liverpool
203 miles
11 hrs. 43 mins
paced
43 mins
London to York
197,5 miles
12 hrs 6 mins
motor paced
1 hrs 47 mins
Worlds 100 mile
5 hrs 4 mins
23 mins
World 12 hour
201 miles
24 miles

This unique bike belongs to Lars Andersen, Denmark.
Only a few of them have ever been produced.
Lars Andersen "made" this bike (drawings by Lars Andersen - created by Jesper Sølling), he rode it some years ago in races at an average speed of 56 km/h. (Written in 1998)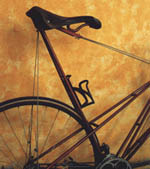 Lars Andersen did some modifications to the frame, but all in all it's a Pedersen.
The bike is handmade with really beautiful workmanship.
The front wheel is 26" erto 571, rearwheel 770c, ertro 622. It has 14 speed gears.
As you can see, from the photo, the rear wheel is very close to the bottom bracket, this is due to the fact that Lars Andersen had to split the frame to make the bike shorter.
Lars Andersen had to make a special seat for the bike. It isn't what we would normally consider as a hammock seat, but it is. The seat can be adjusted.

David Snyder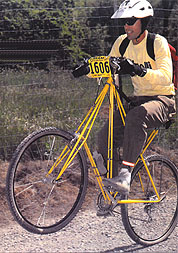 David Snyder CA, USA, is racing his Pedersen (Model unknow).
He races "mountain bike" and road.

Brian Donnan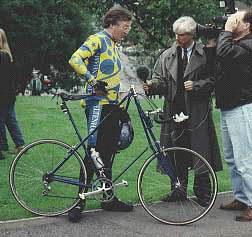 Brian Donnan (UK) racing his Cheltenham Pedersen.
Brian Donnan been riding all over the place.
All that I know about this above photo, is that the rider name is Dave Tigwell - rest is unknown. But I sure would love to know more. .